Actions & Rallies     19 July Actions 2023 (10 Years Too Long)     Vigils & Regular Actions    
Past Actions & Events      20 Years Since Tampa     ARAN  photo galleries    Submit Your Event  

Actions and Rallies:
19 July Actions – 10 Years Too (bloody) Long  – further detail to be added  
Listing of 10 Years Too Long Events   ( 19 – 23 July)   
ACT  
NSW
VICTORIA
QUEENSLAND


TASMANIA
 
SOUTH AUSTRALIA
 
WESTERN AUSTRALIA
 
NORTHERN TERRITORY


Ideas and Resources for 10 Years Too Long Events  (19 – 23 July)    (to be posted here by 20 June)
Return to the top of the page.


Regular vigils and actions

Regular events you can attend in your part of the world:
New South Wales
South Australia
Tasmania
Victoria
WA Qld and Territories.
Please note: some regular street actions may have been suspended during the Covid-19 restriction period.
Return to the top of the page.
Past actions and events

ARAN's archive of past actions, protests and rallies across Australia
Includes: 7 Years Too Long, July  2020.
ARAN's archive of past events and meetings across Australia
Return to the top of the page.
• Palm Sunday 2023 National Day of Action
Find out more here
• Palm Sunday 2022 National Day of Action
Find out more here
• June 2021 World Refugees Day actions and events
Find out more on on the ARAN World Refugee Week page.
• NT: Darwin: Mass letter write-in
Tuesday 1 June 2021 6.30pm
Lucky Bat Cafe Nightcliff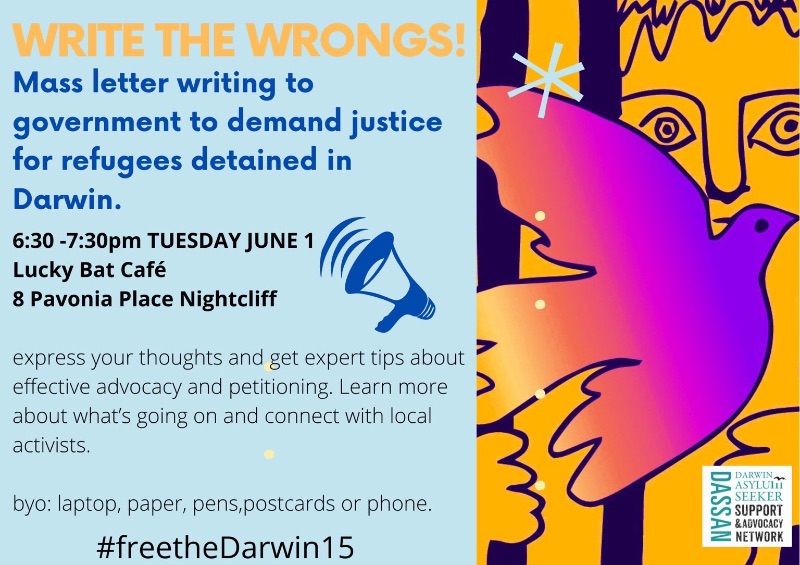 Darwin Asylum Seeker Support and Advocacy Network (DASSAN) 
• NSW: Sydney  Grandmothers vigil
Tuesday 1 June 12.30-1.30pm
Sydney QVB vigil at the Queen Victoria statue
Bring your homemade placards if possible; banners will also be available.
• Vic: Geelong – Melbourne
Sunday 30 May 2.00pm
Combined Refugee Action Group (CRAG) community protest
Park Hotel Melbourne
Bring banners of support for the people locked in detention.
• Auswide: Government to rush through protection interviews
Take Action Now! Call Minister Andrews on (02) 6277 7860 and demand that she cancels this unfair and harmful decision and gives people reasonable and sufficient time to prepare their cases with legal support.
For background see:
Asylum seekers face 'interview of their lives' as caseload blitz launched
(The Age) 11 May 2021
Return to the top of the page.
• #Time For A Home #Free the Refugees


A campaign for the release of refugees from detention and for their safe resettlement. Here is a list of actions you can be part of that are coming up soon:
Detained on Christmas Island, the Biloela Family needs your help:
Find out what more you can do.
Other Actions and Rallies
• NT: Darwin – Release the Darwin 7 Saturday rallies
   End their indefinite detention!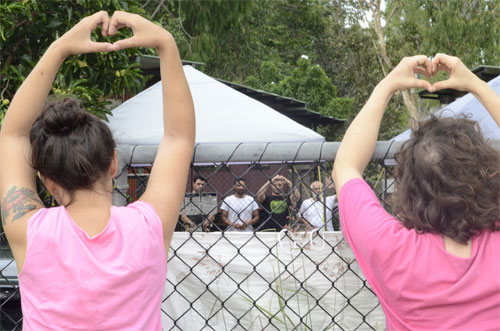 Nightcliff markets
Plus the weekly Home Affairs Protest
Every Wednesday lunchtime
Home Affairs Protests at 12.30pm
21 Lindsay St Darwin
Find out more on the Darwin Asylum Seeker Support
and Advocacy Network DASSAN Facebook page.
• Qld: Brisbane – Solidarity protest, free all the Medevac refugees
Friday 30 April 4.30pm
Permanency not poverty for those released
Brisbane Convention and Exhibition Centre 
(Grey Street Entrance (opposite ABC studio)
Find out more on Facebook Events
Refugees Action Collective (RAC) Qld
Return to the top of the page.
Meetings, Community Awareness & Education Events
•  Auswide: ARAN member groups national discussion about the
July 19 actions 8 Years Too Long actions to draw attention to situation
for those refugees still on Nauru and in PNG after 8 long years.
Tuesday 25 May at 7.30pm
On zoom: message ARAN for access details
• NSW: Sydney – Grandmothers NSW Face to Face meeting
Thursday 17 June 10.00am
Pilgrim House 264 Pitt St. Sydney.
Due to Covid restrictions, numbers will be limited.
Details to come.
• Launch of The Oxford Handbook of International Refugee Law
Tuesday 25 May 6.00 – 7.00pm
Register on EventBrite
• Auswide: Grandmothers online event
Wednesday 19 May 1.00pm,
Refugee advocate Graham Thom has been working for freedom for refugees and advocating for their settlement here and in New Zealand. He is particularly worried about the increasingly dire situation of the Rohingya people and will share with us these concerns. Registration is essential for this meeting:
Post your own
ARAN has an arrangement with Rural Australians for Refugees (RAR) to encourage members to post upcoming actions, events, vigils, rallies and campaigns on the RAR Events Calendar.
Community awareness and community education events are listed on the RAR calendar which can be searched on date, location (state) and key words.
To submit your calendar event via the ARAN website, add the details to the form below and click the 'send' button.
Publishing events on the calendar are at the sole discretion of RAR.
Submit details of your upcoming actions,
rallies, vigils and events

Send info about your upcoming events to austrefugeenetwork@gmail.com
Return to the top of the page.