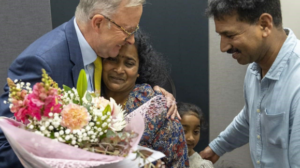 NEW GOVERNMENT – NEW OPPORTUNITIES
Firstly, an acknowledgement of the big efforts made by refugees, activists and advocates across the country in the run up to the election – so many groups worked with great dedication to influence the outcome of the election, and to encourage voters to vote for compassion, decency and justice.
The election of the Albanese Labor Government has inspired hope for refugees, people seeking asylum and refugee activists and advocates.  This is a most welcome change after years of deliberate cruelty and vilification of refugees under the Coalition.   The Labor platform includes a number of important commitments, and we hope the government moves quickly to make these changes.
The full ALP platform is here.  A short summary of Labor commitments can be found here.
Key points in the platform are:
Commitment to return the Nadesalingham family to Biloela – happily this has happened, and there are indications they will be provided with permanency
Stop the practice of referring to asylum seekers as 'illegals'. (P127 Para 12)
Commitment to permanent visas for refugees – and to convert current TPVs and SHEVs to Permanent Protection (P131 Para 10)
Detention to be used as a last resort with a 90-day limit (P132 Para 15 & P136 Para 19)
Reinstate the Refugee Review Tribunal to provide rigorous and fair review processes (P131 Para 10)
More thorough determination processes and abolishing this fast track assessment process (P132 Para 17)
Reintroduce the appropriate references to the Refugee Convention into the Migration Act 1958. (P131 Para 1)
Impose mandatory reporting of child abuse in detention facilities (P134 Para 6)
Operate detention facilities transparently with independent oversight. (P136 Para 15)
Recognition that family reunion for migrants and refugees is important to successful settlement. (P127 Para 14)
Work with UNHCR to manage the backlog in Indonesia (P128 Para 20)
Work with the UNHCR in South East Asia to pursue its mandate and assist the region's asylum seekers (P128 Para 23)
While there are some matters on which refugee advocates would like to see more robust commitments, there is a level of confidence that Labor will move to implement the commitments in the policy platform.   No doubt we will all be watching this carefully.
PRE-ELECTION ACTIVITIES
We expect the major election issues will be the economy, the management of COVID-19 and vaccine coverage, climate change and corruption.  Beyond that people will mostly focus on issues such as health, education, and taxes.
The ARAN Committee members feel that our best efforts are directed at seeking a change of government.    We suggest that fairer refugee policies would be one element in a package of more progressive policies.
Resources
Download the ARAN – federal election kit here. You'll find resources you can use to draw attention to the need for refugee policies which are just, fair, and compassionate – we need to see radical change in the way Australia  treats those who seek asylum here – regardless of how they arrive.   For too long successive Australian governments have specialised in deterrence, and cruel treatment of refugees.   It's time to turn that around.
In the kit you will find:
Handout cards:  see below handout cards you can use or use for stalls, letterboxing, etc.   These can be printed double-sided DL (3 per A4 sheet) – or use single sided if you prefer
Election scorecards:  Choose Fairness and Decency campaign – produced by CRAG (Combined Refugee Action Group – Geelong) – see more details here
RCOA's overview of the refugee policies of the major political parties is here
A downloadable pdf also containing information from minor parties and Independents is here
We call for just and humane refugee policies
Australia is one of the world's wealthiest countries – we can afford to be kinder, more generous and more compassionate. We need fair and just policies for refugees and people who seek asylum.
It is often claimed that Australia is generous towards refugees.   Is this true?
Canada, with a population of just 37million resettles 28,000 refugees each year (30% of all refugees resettled) – if we were doing as well as Canada we would resettle around 20,000 refugees every year.
Taking our national wealth into consideration Australia rates 60th in the world for resettling people who seek asylum – such as people fleeing from Afghanistan.  This shows our lack of commitment to the UN Refugee Convention which enshrines the right for any person to enter a country to seek asylum from persecution.
| | |
| --- | --- |
| The policies we want to see | SAY NO to the policies of Morrison government  |
| Australia has policies which welcome people who need protection including those who flee from danger and seek our protection – a right under the UN Refugee Convention | Our current government says we have less obligation towards people who arrive in Australia seeking asylum – we punish people for seeking safety |
| Fast and fair processes to determine refugee status | Thousands of refugees in our community are in limbo for years |
| Income support provided, work rights and assistance to find employment provided while refugee claims are being assessed | People are in destitution while their claims for protection are assessed |
| People are not generally detained – and if so, only for short periods for health or security checks | People are kept for long periods in immigration detention |
| Priority is placed in keeping families together | Families are separated by our refugee policies |
| Once assessed to be a refugee, permanent visa and timely pathways to citizenship | Many people who are recognised as refugees are only given Temporary Visas |
| All claims for refugee status are processed in Australia | Australia has an expensive and cruel offshore program which holds people in limbo offshore for decades |