Stop Cuts to Status Resolution Support Services
People must not be made homeless and destitute.
Read the news story War on refugees moves to final phase onshore
(The Saturday Paper) 17 October 2020.

SRSS Flyer for Printing (2xA5)
The Victorian Local Government Mayoral Taskforce Supporting People Seeking Asylum
Changes by the Federal Government to the SRSS (Status Resolution Support Services) program are concerning many Councils.
Read the Joint Statement re. SRSS from Local Government September 17 2018.
More details were published in  Victorian councillors condemn federal cuts to asylum seeker payments The Guardian July 31 2018.
For information about the cuts to SRSS, the Status Resolution Support Services see the Refugee Council of Australia Save the SRSS page.
Refugee Council of Australia Factsheet
Dignity Not Destitution – Australian Churches Refugee Taskforce
Status Resolution Support Services (SRSS) program
Dept of Home Affairs
SRSS Operational Procedures Manual Version 8
Dept of Home Affairs 4 March 2019
Key messages:
• Stop the cruelty: fund a basic income for all
• Fair Go for Refugees: fund a basic income for all
• Dignity not Destitution: fund a basic income for all
Hashtags:
• #RoofOverMyHead
• #RestoreSRSS.
Print your own set of postcards – pre-addressed, double-sided
Simply print, cut and send
Most have room for you to add you own message if you wish.
Don't forget to add a stamp
to the Prime Minister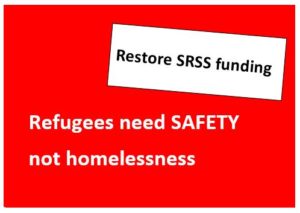 for MP or Senator of your choice
• CAPSA (Catholic Alliance for People Seeking Asylum) has put together some clear and simple actions you, your parish, your students, or your colleagues can participate in during these weeks.
Please don't feel that these are your only options, be as creative as you wish, or modify these to suite your situation. The CAPSA team are on hand to support in any way we can! We will collate actions from across the country and make our voice heard.
We are all responsible for what our government does in our name. We must let them know we want positive change:
Media:
• Planned destitution of people seeking asylum: An "act of grace"?
RightNow.org August 20 2018
• Ballarat councillor calls for city to condemn refugee aid rollback
Ballarat Courier August 16 2018
• Three Victorian councillors condemn federal cuts to asylum seeker payments
The guardian July 31 2018
Mayors and councillors from 17 Victorian councils have called on the federal government to reverse its cuts to support payments for asylum seekers here on bridging visas
•  Port Phillip Council calls for reversal of asylum seeker income support cutsPort Phillip Council June 22 2018
•  Response from St Vincent de Paul Society CEO The Guardian May 19 2018.
The Issue
Demand that income support and access to services for people seeking asylum be maintained: fund a basic income for all

How would you and your children survive if you had nowhere to live, no job, and no income, and no family in Australia?
Most Australians will be shocked to hear that our government is pushing families and individuals into destitution and homelessness.
That's right; thousands of people who are seeking asylum here in Australia, who are on Bridging Visas waiting for their claims for refugee status to be decided, are soon to be without any income support.
Currently if they cannot find a job, or are unable to work due to illness, people seeking safety in Australia get basic income support ( 89% of Newstart allowance), and some are eligible for housing assistance – this is known as Status Resolution Support Services or SRSS.
These people fled traumatic circumstances, and having reached Australia, have been left in limbo for years waiting for their refugee status to be determined. Many were held in detention for years, either in Australia or on Nauru or Manus Island, and those in the community were denied the right to work until recently.
It is estimated that over 7,000 people, including families with children will lose income support.
Australia is better than this. We cannot stand by and allow this to happen to people who are seeking protection in Australia.

The Australian Refugee Action Network is encouraging you to Take Action Now to draw this issue to the attention of politicians and the wider community.
Main points:
A basic income for all. The proposed changes to SRSS must be abandoned, and income support and access to services for people must be continued while their claims for refugee status are being determined
People must not be further traumatised by being left without means of support – treat all people with dignity and respect
Most people who do not have a permanent visa find it very difficult to get secure work. Of those who are able to find work, most are employed in part-time, casual or seasonal work with no job security and are earning less than a living wage
Stop this further humiliation and cruel treatment of people seeking our protection
 You may also want to say that you will not vote for a government which is treating people in this way.
Call to Action
Please do some or all of the following:
1. Email and phone:
• Peter Dutton, Minister for Home Affairs Phone: (02) 6277 7860
Email: minister@border.gov.au
• Malcolm Turnbull, Prime Minster: Phone: (02) 6277 7700
To email use the form at https://www.pm.gov.au/contact-your-pm
• Send a copy to your local MP: find contact details for your local MP at http://www.aph.gov.au/Senators_and_Members/Members
• Ideally, copy your email (BCC) to all Coalition MPs and Senators. Download this spreadsheet Federal MPs and Senators email and phone details May 2018
2. Sign the Refugee Council of Australia petition: #roofovermyhead_petition
3. Write a letter to your local paper or major daily
4. Organise an action at your MP's office: take a placard or banner
• Dignity not Destitution for Refugees; a basic income for all
• Stop the cruelty;  a basic income for all
• Fair Go for Refugees; a basic income for all
5. Circulate this information and call to action through your networks
6. Consider contacting your Local Councillors also and suggest they commit to supporting these asylum seekers.
Organise or join actions: express your outrage and get your friends and others to support the advocacy for refugees, organise through church, clubs etc. Utilise vigils, letters to local papers, community radio.
Background
• People who are seeking to be recognised as refugees are living on Bridging Visas while their claims are being assessed, which can be for a period of years – some have been waiting for more than 5 years for a decision
• Currently these people are eligible to receive 89% of the minimum Centrelink payment (if they are not able to work), and some families are eligible for housing assistance – this is known as SRSS support
• Minister Dutton is changing the eligibility to SRSS, drastically cutting support to people seeking asylum, reducing the number of people given SRRS support from over 13,000 to fewer than 5,000 people by the end of June 2018. This is likely to leave more than 7,500 people, including children, hungry and homeless
• Most people seeking asylum now have the right to work. But most people on bridging visas are unable to get permanent work because their residency status is unresolved. At best people may be employed in insecure, or casual jobs, and are at risk of exploitation by unscrupulous employers. Some people are unable to work because they have health issues relating to their traumatic experiences, including their time in Australian funded detention centres
• A significant number of people seeking asylum are already surviving on emergency handouts from a range of charities, and living with friends or community members, often in vulnerable or unstable conditions
• Charity organisations will not be able to support all of these people. These changes will leave thousands homeless, destitute and hungry
• These changes are entirely at the discretion of the Minister for Home Affairs. It is unclear why Minister Dutton is forcing people into destitution; it is an unprincipled act of cruelty, and appears to be aimed at destroying any hope that people still have of being given protection in Australia
• Our message to the Minister is: fund a basic income for all.
Further information
• A summary of a Refugee Council of Australia briefing from May 4 2018
• Rural Australians for Refugees provides a leaflet for printing and handing out
• The Australian Churches Refugee Taskforce is also encouraging people to contact the Prime Minster regarding the cuts to SRSS. See details here, including a postcard to send.
Feedback
Let us know how you went: email austrefugeenetwork@gmail.com or on Facebook or Twitter.
To find out where to donate or offer accommodation or other support, go to https://www.refugeecouncil.org.au/takeaction/let-them-stay-donate/. Agencies providing support in each state are listed there.