Sunday 2 April 
Listing of Palm Sunday Events      Plan a local event     Social media & Online Actions     Lobby your local MP     Action by faith communities     Background Information
Around 20 actions were held across Australia.  Click here to see an overview of actions with photographs. Click here for the Word version. If your action and/or media coverage is not included in the summary, please email here with a short description and one of two photographs, and it will be added to the summary.
Be a part of the 2023 National Day of Action: 
Justice for Refugees Permanent Protection for All Refugees
Justice for Refugees Palm Sunday actions and events raise public awareness of the difficult situation for many refugees in Australia.
Take Action and join the call for an end to the cruel and harmful policies that have been in place for far too long. All people seeking protection as refugees need to be treated fairly and with compassion. See more detail in the Background Information section below, or print and share the Palm Sunday leaflet.
Rallies and actions will be held in various cities and towns across Australia. See listing below to find an action near you.
Even if you can't attend an event, you can take action online to support the call for Justice for Refugees: Send a letter, email or postcards to MPs and Senators.   See below postcards you can print to print and also suggestions for letter writing.
Listing of Palm Sunday Events
ACT
Canberra – Palm Sunday Rally: Permanent Visas for All
Sunday 2 April 1.00pm Garema Place, Civic
Contingents to gather at Petrie Plaza (the merry-go-round) at 12.30pm
Find out more on Facebook Events

NSW
Sydney – Palm Sunday Rally – Permanent visas for refugees, Call for peace 
Sunday 2 April 2.00pm Belmore Park, near Central Station
Find out more on Facebook Events


Alstoneville – Palm Sunday Justice for Refugees
Sunday 2nd April 10.30am Alstonville Anglicans
Walk from Alstonville Anglicans 6 The Avenue, then meet at Freeborn Park at 11am (Cnr Main and Daley, Alstonville)


Armidale – Palm Sunday Vigil and Open Space for Peace
Sunday 2nd April from 10.30am  
at Judith Wright Grove at the corner of Dumaresq and Faulkner Streets, Armidale


Find out more on Facebook Events

Griffith – Palm Sunday Action
Saturday 8th April 10.30am – 11.30am Kooyoo St Mall, Griffith


Organised by Rural Australians for Refugees Griffith NSW
Enquiries – email here

Lawson (Blue Mountains) – Palm Sunday Justice for Refugees Vigil
Sunday 2nd April 2.00pm outside the Catholic Church Somers St, Lawson


Bring placards, banners to display on the highway

Moss Vale – Palm Friday Vigil
Friday 31st March 2.00pm – 4.00pm Leighton Gardens, Moss Vale
Organised by Rural Australians for Refugees Southern Highlands
Find out more on Facebook Events


Newcastle – Palm Sunday Picnic for Peace
Sunday 2nd April 1.00pm at Civic Park (cnr King and Auckland St)


Acting for peace and for justice for refugees.
Speakers, Music and Solidarity

Wollongong – Palm Sunday Rally for Refugees
Sunday 2 April 2.00pm Wollongong Town Hall
Find out more on Facebook Events


VICTORIA 
Melbourne – Walk for Justice for Refugees
Sunday 2 April 1.30pm – 4.00pm


Meet at State Library Swanston Street for music and speakers
Walk to Parliament Gardens
More music and speakers until around 4pm
Refugee Advocacy Network Victoria
Find out more on Facebook Events

Ararat – Palm Sunday Walk
Sunday 2 April 2.00pm Alexandra Gardens – meet at the cafe
Bring banner, trumpets, drums and whistles!
Organised by Grampians Gariwerd RAR


Ballarat – Justice for Refugees – Permanent Protection for ALL Refugees
Sunday 2 April 2.00pm gather at View Point Lake Wendouree
Organised by Rural Australians for Refugees Ballarat and Amnesty Ballarat


Bendigo – Put your Hands Up for Refugees
Sunday 2 April 12.30pm – 2.00pm Bendigo Library Gardens
Palm Sunday gathering and picnic
Organised by Bendigo Churches and Bendigo RAR



QUEENSLAND  
Brisbane – Permanent Visas for Refugees, Peace not War
Sunday 2 April 2.00pm King George Square
Find out more on Facebook Events


Gold Coast – Palm Sunday Community Vigil for Peace
Sunday 2 April 1.00pm Tesch Park, Coral Street, Maleny
Find out more info here


Townsville – Palm Sunday Walk for Justice and Freedom for Refugees
Sunday 2 April 4.00pm meet at The Rockpool 
then walk from there to the Gregory Street Amphitheatre
For further detail email here

WESTERN AUSTRALIA
Perth – Peace and Justice for Refugees
Sunday 2 April 1.00pm St Georges Cathedral in the city
Find out more on Facebook Events

TASMANIA
Hobart – Postcards to Parliament
Saturday 1 April 11.00am – 1.00pm on Parliament lawns, Hobart
Organised by Tasmanian Refugee Rights Action Group
Their Facebook page is here

SOUTH AUSTRALIA
Adelaide – Palm Sunday March for Peace, Justice and Climate
Sunday 2 April 2.00pm Mukata (Hindmarsh Square)
Gather from 1.45pm for a 2pm start. Marching at 2.15pm to Parliament House.
Find out more on Facebook Events

NORTHERN TERRITORY
Darwin – Justice for Refugees
Sunday 2 April 5.00pm
Nightcliff Jetty, Nightcliff
For more details:  Ph  0406 551 051   and go to DASSAN.org
Plan a local event
To add your event to a listing on this page, send the details to us using the ARAN contact form. If you would like to also have your event listed on the Amnesty website use the form here.
See below templates and resources to assist you in promoting your local Palm Sunday activities.  Resources include: poster template, information leaflet, draft media release, video clips and memes for social media, and resources for churches.
ARAN will seek to get national media coverage for the National Day of Action prior to Palm Sunday. 
Before Palm Sunday: If you are organising an action or event, please send details no later than 27th March so we can refer to your action in the national media release
On the day – please share photos and highlights on your social media and share  the ARAN Facebook page posts
Ideas for planning your actions:
Link up with other social justice groups in your area to plan a simple action. See below resources to help you publicise your event including poster and leaflet.
Some ideas you might want to consider are:
A Walk for Justice through your local town – invite school groups, church and faith groups, refugees in your community and your local councillors to join the Walk
Choose a prominent place in your town and do a standing display of posters, placards and banners – take photographs and video and share on social media
Print postcards and encourage people to send to politicians
Plan a mini concert to draw attention to the issue of justice for refugees
Invite local churches to include a prayer for refugees in their services, put a message on their outdoor noticeboards – eg Welcome Refugees, Justice for Refugees, or display a banner – see more resources for churches below 
Run an information session at your local school/s or library – invite a refugee to speak, and / or a refugee advocate
Don't forget to invite your local media to your event !   Sample Media Release: Use this as a starting point and make changes to include details of your local action to promote to your local media. Don't forget to add your group's name, a contact person's name plus their mobile number. Download the media release (Word format).
Resources to support your activities:

Graphics and Templates
Posters and leaflets – You can add details of your event on the front before you print.  Note:  If you don't have PDF editing software, download the Word version, add you details and then print.   
The posters can be printed as A3 or A4 – just select this when you print.   
The leaflets are set up for A4 printing, but you could print as A5 if you wish.
Poster for Palm Sunday (design 1 PDF)         
Poster for Palm Sunday (design 1 Word version)
Poster for Palm Sunday (design 2 PDF)         
Poster for Palm Sunday (design 2 Word version)     
Palm Sunday leaflet (design 1 PDF)                
Leaflet for Palm Sunday (design 1 Word version)     
Palm Sunday leaflet (design 2 PDF)                
Leaflet for Palm Sunday (design 2 Word version)     

Ideas for Placards
Social Media & Online Actions
Online actions
ASRC online letter urging politicians to Evacuate PNG and Nauru. Take action NOW 
A decade after our government forced them to brutal offshore detention centres, more than 150 refugees and people seeking asylum are still trapped in Papua New Guinea and Nauru. But in March 2023, the Albanese Government sided with the Liberal Opposition and Pauline Hanson's One Nation to vote down the Evacuation to Safety Bill, which would have seen the urgent evacuation to refugees still being held in PNG and Nauru. After a decade of delay, the situation is critical for refugees trapped in PNG and Nauru. It is now incumbent on the Albanese government to act swiftly with an evacuation plan of their own. Please email your MP and Senators now. Urge them to contact Home Affairs Minister Clare O'Neil and insist on urgent action to evacuate people abandoned on PNG and Nauru, while they await permanent resettlement.
Help refugees get sponsorship to Canada for resettlement – donate to Operation #NotForgotten (RCOA)  
Donate to help Brigidine Asylum Seeker Project to support people seeking asylum with housing and essential living expenses   Donate here  
Donate here to save the Asylum Seeker Resource Centre so they can continue their work in supporting refugees and people seeking asylum.  
Lobby your local MP
See below the Background Information on the issues to raise with your local MP and the senators for your state.   We suggest you focus on Labor and Independent MPs and Senators.   Contact details for all MPs and Senators are on the Australian Parliament's website.
Send Postcards to politicians – Justice for ALL Refugees.  
Download, print and send to:
 the Prime Minister version


  your local MP version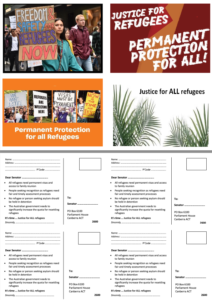 the senators in your state


Share with friends and ask them to also send postcards! 
Send an email or write a letter to MPs, the Prime Minister and senators
See points below in the Background Information  at the bottom of this page.
Call their office and leave a message and/or ask for a meeting
See sample letter and other useful information here.
Share with friends and ask them to also emails and/or send letters ! 
Action by Faith communities
Call for Justice for Refugees in  Palm Sunday services:

 Click here to download information to share with your congregation in the lead up to Palm Sunday.  There are also suggestions and material for services on Palm Sunday.

Prayer by the Anglican Diocese of Melbourne 
Video clip: Rev Katherine Rainger speaking about the importance of calling for justice on Palm Sunday
See more video clips in the Social Media and Online Action section on this webpage.


Display the Justice for Refugees poster on notice-boards/newsletters of places of worship – download on this webpage
Print copies of the Palm Sunday leaflet on this webpage and have available for your parishioners
Ask your members to take action online and attend local events – see details on this webpage
Print postcards and encourage people to send to politicians – see on this webpage
Ring the bells for refugees.   It's important to let people know why you are ringing the bells!
Hang a banner outside your church to show your community you welcome refugees – You can order a Justice for Refugees banner. See details on how to order here.

Resource for Schools  – preparing for Palm Sunday     
Click here to download PowerPoint slides for chaplains and religious educators to use in schools in the lead up to Palm Sunday. Teachers can choose the slides they feel will be age appropriate.
These resources have been approved by the Social Responsibilities Committee of the Melbourne Anglican Diocese and have been provided to Melbourne Anglican schools via the school chaplains network in the diocese. Other denominations are very welcome to use and adapt them.
Background Information
Justice for Refugees means:
Permanent visas and family reunion for all refugees
Fair and timely assessment of all claims for refugee status
Health care, work rights, income support, and access to education for all those seeking asylum
Releasing ALL refugees from detention
Offering resettlement here for refugees still in PNG and on Nauru, and those in trapped in Indonesia
Ending offshore processing and detention
Increasing the humanitarian intake of refugees
The change of government at the federal election in 2022 has brought hope for more compassionate policies. However, thousands of refugees and people seeking asylum are still in limbo waiting for certainty about their future. It is important to make sure that Labor keeps their policy commitments and works to­wards undoing the policies which harm people and deny their basic human rights.
ALL refugees need permanent visas and access to family reunion
We welcome the news, that 19,000 refugees who have been in limbo for 10 years on temporary TPVs and SHEV visas will now be able to apply for permanent visas, and will also be able to apply for family reunion. Refugees have been separated from loved ones for many years, and family reunification is an essential element of the resettlement process.
People seeking recognition as refugees need fair and timely assessment process
Around 12,000 people have had their refugee claims processed under the flawed so-called 'Fast Track Sys­tem'. After 10 years most of these people are still waiting for their claims for refugee status to be determined, and many have been unfairly refused. There is no doubt that many of these people are owed protection as refugees, and they need natural justice and a rapid pathway to permanency. The announcement by the government on 13 February has no effect for these people.
People who are seeking recognition as refugees need work rights and support in the community
People on bridging visas have no income safety net. Because of their short term visas they find it difficult to find permanent work. Some have no work rights at all. Some people do not have access to Medicare. Many people on bridging visas are struggling in poverty while living in substandard and insecure housing.
People who do not have permanent visas are unable to undertake tertiary study unless they pay full fees. Young children cannot access early childhood education and people with disabilities are being denied NDIS support. Adults who want to build their work skills are not eligible to undertake further training.
All people who are seeking asylum need support and opportunities to live with dignity, and not be at risk of destitution while they wait for their refugee claims to be assessed.
No refugee or person seeking asylum should be held in detention
The Albanese Government has released a number of people from long term detention. However, there are still people seeking protection who remain in immigration detention, some of whom face involuntary deportation.
Refugees and people seeking asylum still in limbo on PNG, Nauru and Indonesia
At least 150 people are still held in shocking conditions on Nauru and in PNG. They need immediate pathways to safe resettlement here in Australia. There are around 1,000 refugees previously held offshore, including the families brought here from Nauru in 2015 who need the option of safe resettlement here. Around 14,000 refugees and people seeking asylum from Afghan- istan, Myanmar and Sri Lanka have been stranded in Indonesia since 2014 because the Australian Govern­ment has refused to offer resettlement. These people cannot be resettled in Indonesia and cannot return to their home countries – they need the option of resettle­ment in Australia.
The Australian government needs to significantly increase the quota for resettling refugees
In recent years the quota of 13,750 has not been filled. The Albanese government has committed to increase the number of refugees to be resettled, but so far there has been no increase. Thousands of refugees are desperately waiting for Australia to lift its humanitarian intake to at least 30,000 per year. Importantly, all of the places in the refugee quota need to be allocated each year.
Palm Sunday is the day to come together and stand up for Justice for Refugees.