ARAN membership list
Is your organisation interested in joining our network and being part of a national movement of activists and advocates who are driving positive change for refugees and people seeking asylum? Please contact ARAN.
Membership List as at September 2019
National
ACT
NSW
NT
Queensland
SA
Amnesty Action Group – Semapahore/Port Adelaide
Tasmania
Amnesty International Tasmania Southern Group
TASS – Tasmanian Asylum Seeker Support
Victoria
WA
WA Amnesty Refugee Rights group
International
Associate Members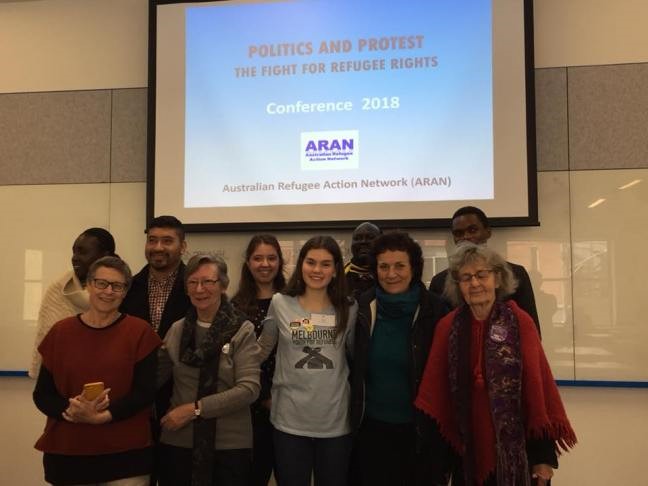 The ARAN National Committee for 2018 – 2020
Angelica Panopoulos (Refugee Action Collective Victoria RAC Vic)
Azlan Petra (Co-opted)
Christian Bashimbe (Co-opted)
Clare Forbes (Grandmothers Against Detention of Refugee Children  GADRC)
Elizabeth Lang (WA Collective)
Emmanuel Kondok (Community of South Sudanese and Other Marginalised Areas  CSSOMA)
Jan Govett (Rural Australians for Refugees  RAR)
Marie Hapke (Refugee Advocacy Network  RAN)
Meg Clark (Canberra Refugee Action Committee Canberra RAC)
Peter Robson (Darwin Asylum Seeker Support and Advocacy Network DASSAN)
Rachel Silber (Melbourne Youth for Refugees).
What a wonderful, passionate, diverse group of people who are representatives of ARAN member groups, or individuals who have been co-opted for their skills and experience, to lead national collaboration for the refugee rights movement for the next 12 months!
ARAN Committee Update September 2019
A few changes have occurred within the ARAN Committee over the past year as Member Networks change their own representatives.
The current members of the 2020 ARAN Committee are listed below.
Angelica Panopoulos (Refugee Action Collective Victoria – RAC Vic)
Gordon Melvin (Queensland RAC)
Jean Ker-Walsh (Grandmothers Against Detention of Refugee Children – GADRC)
Jan Govett (Rural Australians for Refugees – RAR)
Marie Hapke (Refugee Advocacy Network – RAN)
Peter Robson (Darwin Asylum Seeker Support and Advocacy Network – DASSAN)
Rachel Silber (Melbourne Youth for Refugees)