Send a Christmas message to politicians – Family Reunion for Refugees
You might want to encourage your friends and family to take this small action for refugees.
Send to: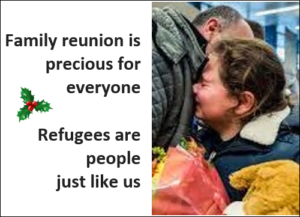 Dear
This Christmas thousands of refugees in Australia are unnecessarily separated from their families and loved ones.
This could easily be changed.  Give refugees permanent visas – not Temporary Protection Visas and SHEVs – and allow them to bring their families here.
Australia's cruel treatment of refugees must end.
Make the change now.
(your name)
(your address)
How to send:  
If you are sending by email – copy and paste from here    (Word doc)
If you are printing and posting  – download here: (pdf)
postcard for MPs and Ministers  
postcard for senators