Refugee Week is Australia's peak annual activity to inform the public about refugees and celebrate positive contributions made by refugees to Australian society.
Find out more on the campaign's webste: https://www.refugeeweek.org.au/.
Also, check out Refugee Week events on the RAR website.
2019 Refugee Week major events
June 16 – June 23: National Week of Prayer
Coordinated action and prayer for the Catholic community
from around Australia will join together for people seeking asylum.
Organise yourself, your school, parish or organisation to
join us and register today!
20 June – World Refugee Day
Tamil Feast – Bayside Refugee Advocacy & Support Association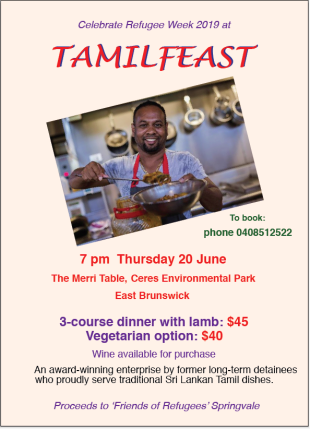 Manus: Hear the stories of the men detained on Manus Island in their own words.
Manus has been officially selected for the 2019 St. Kilda Film Festival. The festival runs from the 21st to the 30th June and Manus screens to the public on Saturday 22nd June at 1.30 pm.
See a trailer on YouTube: https://www.youtube.com/watch?v=xCcl9CEuWaM
22-23 June: Exhibition  Facebook event details here.
23  June: Sydney forum Facebook event details here.
Sunday 16 June – Saturday 22 June
Some Newcastle events in RFW:


Stories of Arrival: different pasts, shared futures 
Opening Refugee week with a discussion and shared meal with refugees and our wider community, exploring the experience of refugees settling in Newcastle and the practical ways that we, as a community, can assist them.  Multifunction room Wallsend Public Library 1:30 pm Sunday 16 June. Facebook event here .
"Sanlundia" book launch with author ZT Quinn at NCC library 6:15 Mon 17 June (Amnesty Newcastle , Hunter Asylum Seeker Advocacy, Newcastle Region Library).
In Canberra: RAC Information Stalls – Refugee Week, 20 June
There will be stalls outside local shopping centres throughout Canberra to raise awareness of Canberra events on 1st and 20th
For more details click here.
Refugee Week Film Festival, Sunshine Coast

Free movies for Refugee Week
To celebrate Refugee Week the Sunshine Coast Refugee Action Network is coordinating a Community Film Festival across the Sunshine Coast. Five different films will be screened at seven different venues over eight days to raise community awareness through sharing stories of refugees and people seeking asylum. Almost all screenings are free, but booking is essential for most venues due to limited seating:

Monday 17 June, 6 pm
Buddies film night: "Constance on the Edge", – free screening at St Marks Anglican Church, Buderim
Tuesday 18 June, 6 pm
Buddies film night: "The Merger" – Caloundra Community Centre
Wednesday 19 June, 6 pm
Buddies film night:  "Mary meets Mohammad" – free screening at The J, Noosa Junction
Thursday 20 June, 5:30 pm
Buddies film night:   "Border Politics", – free screening at Berkelouw Books, Eumundi
Thursday 20 June, 6pm
Buddies film night:   "The Merger" – free screening at USC campus. Sippy Downs
Friday 21 June, 3 pm
Buddies film night:   "Constance On The Edge", free screening at Nambour Community Centre, Nambour
Saturday 22 June, 6 pm
Film night finale: "The Staging Post" – free screening at USC campus, Sippy Downs