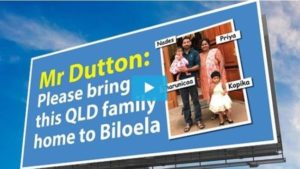 Printable Biloela Postcards – print and send to the Prime Minister
Change.org petition 198,442 have signed – 7 July 2019
Update from Angela Fredericks – 1 July, 2019
Am I the only one who thinks, that in a country like ours, there has to be a better way of handling this?  Alan Jones backs the Tamil Family from Biloela
Read Angela's Update here
Update from Angela – 10 January, 2019
Following the failure of their appeal in the Federal Court just before Christmas, this little family from Biloela could be deported to danger unless David Coleman Minister for Immigration steps in before February 1 2019.
Read the full update to find out how you can help.
Update from Angela Fredericks – 7 August, 2018
On a Friday night six weeks ago, Priya called me, crying and distressed. She'd just been given notice she and her family would be forced from Australia to danger within days. That weekend, Priya's friends and neighbours gathered in the Biloela Lion's Park for a candlelight vigil.
We'd written letters. We'd delivered a 100,000 strong petition to Mr Dutton.  We'd even persuaded a Liberal Senator to take up our cause. There was no way we were going to give up on this family.
Days before, we'd heard that US airlines were refusing to fly children separated from their parents.  We decided to launch a petition calling on Qantas and 11 other airlines to refuse to fly Priya, Nades, Kopika and Tharunicaa anywhere but home to Biloela.
By the time the weekend was over, thousands of people had signed.   Thankfully, Priya's lawyers managed to postpone the deportation long enough to lodge an appeal with the Federal Court.
Priya's appeal is set down for the end of this month. But even if Priya's appeal succeeds, there is no legal barrier to protect husband Nades and baby Tharunicaa from being forced back to danger.
Now, refugee advocates in Sydney and Melbourne are asking Qantas to publicly state that they will not participate in forcing Priya, Nades, Kopika or Tharunicaa back to danger.
Angela.
Petition Update
Qantas is meeting with human rights advocates! August 10 2018.
Thank you everyone for your continuing support.  With your help, I know we can bring this family #hometobilo! Angela.
PS If you haven't already, please sign and share our petition to Qantas and other airlines.
A few of the reports in the media
Visit the Home to Bilboela website.