Go along to one of these regular rallies or vigils to show your support for refugees:
Melbourne
5.30pm – 6.30pm every Friday.
Outside the State Library Swanston St.
Vigils hosted by Melbourne Public Vigils – Refugees Off Nauru & Manus
Bentleigh
Fortnightly Friday vigils outside the office of MP Tim Wilson
Midday to 2.00pm
368 Centre Road Bentleigh
Grandmothers and Bayside Refugee Advocacy and Support Association.
Bayside
Bayside Refugee Advocacy and Support Association (BRASA) trialed a new form of protest on Nepean Highway. In the past we have hoisted the eight metre banner. We have not asked the motorists to toot their horns, but there were always some who did.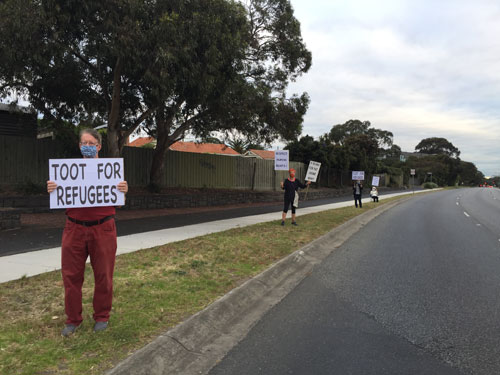 This time we did ask them to toot; we received about 200 toots!
Belgrave
Saturday morning 11am for 1 hour
Rally at the Roundabout in Belgrave
Torquay
Thursday evenings 5.30pm – 6.00pm
Corner Surf Coast Hwy & Darian Rd.
More on Facebook & #kidsoffalloff
Surf Coast Rural Australians for Refugees are extending these vigils until the remaining children are taken off Nauru. More information on Facebook.
Ballarat
Weekly on Monday 11.00am to 12noon.
Outside Catherine Kings Office 5 Lydiard St. Nth. Ballarat.
RAR Ballarat, Ballarat GADRC
Bendigo
Monthly on the third Friday each month 5.30pm – 6.00pm.
Coner Pall Mall & View Street (near the Fountain).
Bendigo Roadside Demonstrations, #CloseTheCamps, #BringThemHere
RAR Bendigo, Bendigo GADRC, Bendigo Amnesty.
Brighton
Once a week Bayside Refugee Advocacy and and Support Association (BRASA) hoist an 8 meter banner Bring the refugees to safety now on Nepean Highway or Beach Road, Brighton. More details via the BRASA contact page.
Coburg
Every Tuesday 3.30pm – 4.30pm.
Corner Bell St. & Sydney Rd.
Grandmothers Against Detention of Refugee Children weekly vigil.
Geelong
Fortnightly on Thursdays 12noon – 1:00 pm.
Outside Myer Little Malop Street.
Geelong Vigil Group Silent Vigil.
Wangaratta
First Friday of each month 3.30pm – 4.30 pm (until December 2018)
Outside Cathy McGowan's office 117 Murphy St.
Warrnambool
Rotating days each week at 11:00 am
Outside Dan Tehan's office 73 Kepler Street.
See Love Makes a Way for roster.