On Tuesday 19th July 2022, it will be nine long years since former Prime Minister Kevin Rudd announced that anyone seeking asylum who arrived by boat would be 'never allowed to settle in Australia' and would be subject to offshore detention.  This resulted in the regime of cruelty under which thousands of men, women and children suffered years in appalling conditions in detention on Nauru and Manus Island.
On 19 July we remember:
the suffering – years without freedom, years of separation from loved ones, years of being denied a safe, permanent home – physical and mental strain resulting in chronic health issues for many – and the children who suffered Resignation Syndrome and nearly died
the 14 people who lost their lives to violence and despair
the 192 refugees brought to Australia under Medevac legislation, who were further detained in hotels for months, some for nearly 3 years
around 1,000 people (including Medevac refugees)  were brought to Australia for medical treatment – none of these people, including the children  brought from Nauru, have permanent visas.
What is the situation now?
Nauru:   Around 100 refugees remain on Nauru where currently there is a Covid outbreak – one third of the population of 10,000 have Covid.  We know medical facilities on Nauru are limited, so there is deep concern for the welfare and safety of the refugees still there.
Take Action:   See links to social media tiles to share, and write to the Minister for Home Affairs asking that the refugees be brought to safety in Australia, while they wait for months or years for resettlement in New Zealand, Canada and the US. Use the contact form here and also send a copy of your message to your local MP.
PNG:  Around 100 refugees are still in limbo in Port Moresby in PNG.  Many are struggling to hold on to their hope for freedom.   Some are waiting for resettlement in Canada and the US, and UNHCR is working with the New Zealand Government to resettle many others, but the timeframe for this is unclear. Archbishop's letter
Take Action: Email the Prime Minister in New Zealand to express your concern for the wellbeing of refugees in PNG, thank her for negotiating with UNHCR to arrange their resettlement, and ask that this be done as a high priority.
Around 1000 who have been brought to Australia for medical treatment:  Still waiting for permanent protection and the chance to rebuild their lives.
Take Action:  Email the Minister for Immigration Andrew Giles and  Minister for Home Affairs  calling for safe resettlement now – no one should need to live in limbo for 9 years.
Let's stand with people still denied their freedom and those who are now living as part of our community, but without a pathway to safe and permanent resettlement – they need to have a safe and secure future.
See below social media tiles calling for safe resettlement and the end to 9 years of suffering and uncertainty.
See also Time for a Home  –  Background and social media tiles.
COVID situation on Nauru (July 2022)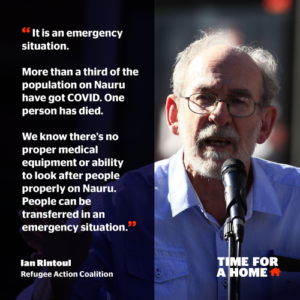 Safe Resettlement Now