What's happening to the Medevac Refugees? 
Urgent update Nov 2021:
In 2019,  under the now repealed Medevac legislation 192 refugees were brought to Australia from PNG and Nauru for urgent medical treatment.  They were all detained in hotels (Kangaroo Point in Brisbane and Mantra Hotel in Melbourne) for more than 12 months, and few received the medical treatment they needed.  Since December 2020 most have been released into the community on Bridging Visas, but 46 men are still detained in the Park Hotel in Melbourne, and a few others are detained in other places of detention.
It has long been feared that Covid would be brought into the hotel by the security guards.  Now these fears are realised – of the 46 refugees held in the Park Hotel, 23 men have Covid, with one in hospital.   Medical care in the hotel has been minimal, with ongoing concerns about the suitability of the hotel for quarantine – the Park Hotel was one of the hotels involved in Melbourne's hotel quarantine failures which lead to the extended lockdowns in Melbourne in 2020.   Those who have not yet contracted Covid are living with the fear that they too will become ill.
Email the Minister for Home Affairs and call for the immediate release of these men to suitable quarantine facilities – and the release of those who are Covid free to the community.   Karen.Andrews.MP@aph.gov.au
Post the memes below on social media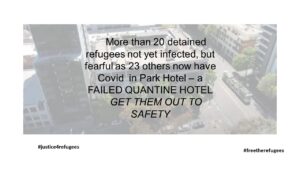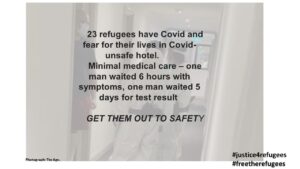 #Time For A Home #Free the Refugees

A campaign for the release of refugees from detention and
for their safe resettlement
On this page you will find information about the campaign so far and suggestions for actions and activities, including suggestions for social media. Also, go to the photo gallery page for images from campaign actions and rallies.
Right now you can:
• Sign and share the ARAN Petition #Time For A Home #Free the Refugees
• Read background information about the issues
• Look into suggestions for letter writing and lobbying
• Help out in our search for ambassadors for the campaign
• Be part of the #Time For A Home #Free the Refugees campaign actions, rallies and events.
It's Time for Us to Come Together to End Detention: #Time For A Home!
After seven long years of toxic politics and punitive policies hundreds of people continue to be held in immigration detention – in community facilities, in prison-like conditions and offshore in PNG and Nauru. The Morrison government must free these women, men and children, quickly resettle them into our community, and enable them to be safe, supported and have a place to call home.
The Australian Refugee Action Network (ARAN) is represented on the working group for the #Time For A Home campaign which is seeking to mobilise people across Australia in a united effort to secure freedom and safe settlement for refugees and people seeking asylum. In addition to ARAN, the campaign coordinating group includes Amnesty International Australia, Human Rights Law Centre, QLD Community Alliance/RSM, ASRC, Refugee Advice & Casework Service, GetUp! and Refugee Council of Australia.
The #Time For A Home campaign was launched on 5 November 202.
Read the Asylum Seeker Resource Centre media release
If you have not already, sign up your group to join the 100+ other groups partnering in this campaign. Please also encourage other community groups and organisations to sign on also.
How will you support #Time For A Home #Free the Refugees campaign?
The refugee justice movement is stronger when we work together. ARAN is encouraging groups – and individuals – to join this campaign to end detention and secure freedom for refugees held in immigration detention.
The campaign will be ongoing into 2021 until we see the release of refugees from detention. The initial period of action  is 3-13 December, linking the campaign with the passage of the Medevac legislation (3 December) and International Human Rights Day (10 December). You know your group best and what campaign activities are most likely to connect with your community, raise awareness and amplify our collective voice.
It's Time to get active and join groups around Australia in action during
this period !
Here's how:
•  Hold a vigil outside your local MPs' office
•  Hold regular protests at key locations – intersections, main roads, peak hour protests…. anywhere people will see you and see the message
•  Set up an information stall in your community – create a postcard, invite passers-by to sign the ARAN Petition #Time For A Home #Free the Refugees
• Hold a 'Write for Rights' event or have a stall at a community event
• Write to your local MP and relevant ministers – see below suggested key points
• Write letters to your local newspaper
• Form an 'Article 14 of the Human Rights Declaration' delegation to visit your local MP: "Everyone has the right to seek and to enjoy in other countries asylum from persecution"
• Get creative – host a 'Celebration of Resilience & Kindness' evening with artists, speakers and storytellers – raise awareness about the ongoing detention of refugees and people seeking asylum – email ARAN via the contact page  if you need ideas for speakers

Simple templates for your promotions:
Template 1
Template 2

Register your action on the #Time For A Home website:
complete the information form.
You can also let us know using the ARAN Contact Form
to list your action on the ARAN website
Social Media
• Share the ARAN Petition #Time For A Home #Free the Refugees
• Share social media resources from the Time For a Home website including the memes below
• Create and post your own content – find some useful images on the Refugee Advocacy Network; feel free to use any of these
• Share posts on your various social media platforms: here are some ideas for hashtags – #TimeForAHome, #FreetheRefugees, #EndIndefiniteDetention, #SafeResettlementNow .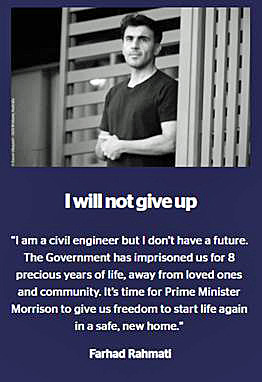 Background Information
• Read a powerful VICE article interviewing the incredible Betelhem Tibebu.
• View Andrew Wilkie MP speaking about #TimeForAHome in Parliament, calling on the Government to end indefinite detention and for the community to get behind the campaign.
• Recent polling conducted by Essential Media showed that the majority of Australians agree that those found to be refugees should be released immediately.
Since 2013 Australia has held thousands of people in harsh conditions in detention in Nauru and PNG. Most of these people are recognised by the UNHCR to be refugees. What has happened to these people?
• More than 200 young men are being detained in closed immigration detention centres and so called 'alternative places of detention' such as the Mantra and Kangaroo Point hotels – now for over 12 months.
• Over 1000 women, men and children were transferred to Australia for critical medical treatment (including those brought as a result of the Kids Off Nauru campaign). Most of these people have been living in community detention for years, and have recently been cast into the community on Bridging Visas, with no income support, and limited employment prospects. Australia is refusing to grant them permanent visas, even though they are refugees.
• Over 290 people are still in Papua New Guinea and Nauru, and though no longer in detention, they have no safe resettlement option. Australia is still refusing to take up the offer by New Zealand to resettle these people.
• Over 800 people have been resettled in the United States.
Suggested points for letter and lobbying MPs
Here are some ideas to get you started:
• Hundreds of people seeking humanitarian protection in Australia are being held in indefinite detention here in Australia – with no plan for their release
• Most of these people are recognised as refugees by UNHCR, and cannot return to their home countries because it is unsafe for them there
• We cannot hold these people in detention indefinitely – it is very damaging, and it is unnecessarily costly to Australian taxpayers.
• It is not reasonable for Australia to expect other countries to resettle these people – we are shirking our international responsibilities
• These people should be resettled in our community with safety net income support until they are able to support themselves
• Everyone needs a secure future and a place to call home.
• These people came to Australia seeking safety and a secure future for themselves and their families – they are keen to make a contribution to our community.
You could also consider using the FaceBook memes or other images in
your email.
Seeking ambassadors for the Campaign
Do you know someone with public profile who might like to publicly support this campaign? Contact Marie Hapke (ARAN Committee member) via the ARAN contact page / or Jana Favero at the Asylum Seeker Resource Centre (ASRC).
• • • • • • • • • • • • • • • • • • • •

@Home Safe with Us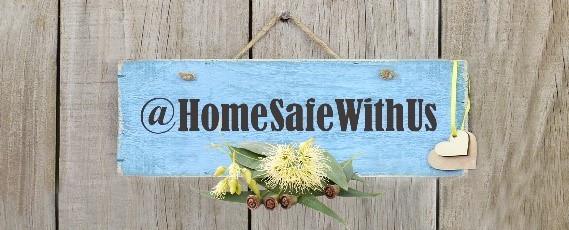 Stats and Graphs
Onshore immigration detention: July 2020.
Federal politics
• "We are just waiting. We are always waiting"
(Inside Story) 22 October 2020
• Hundreds of refugees are in a 'horrible' situation after being told to leave community detention (SBS) 21 October 2020
• War on refugees moves to final phase onshore
(The Saturday Paper) 17 October 2020
• People seeking asylum evicted by Home Affairs without support
(Asylum Seekers Centre) 2 October 2020
@HomeSafeWithUs
Character Test – Proposed Amendment of Migration Act
Proposed changes to give the Minister more powers to cancel visas
The Bill to amend the Act increases the risk that people who are owed refugee or complementary protection obligations may be returned to their country of origin in breach of international law, or remain in indefinite detention in Australia without legal recourse.
The Senate may be asked to vote on the Bill in early October 2020.
There's further detail in this document:
ASRC* Brief Migration Amendment (Strengthening the Character Test)
Bill 2019: Word format   PDF format
(*Asylum Seeker Resource Centre (ASRC) updated 21 September 2020).
Read the report of the Senate Committee (this includes the dissenting reports from Labor and The Greens which recommend that the Bill not be passed).
Contact your state senators, and cross-bench senators Jacqui Lambie (Tasmania) and Rex Patrick (SA) to express your concerns about this Bill.
Here are some key points you may want to mention in letters to Senators, particularly the cross-bench Senators:

• The Minster already has excessive powers to cancel visas, on the assumption of bad character (a person does not need to be convicted of an offence to have their visa cancelled). The Scrutiny of Bills Committee commented that in the light of the "already extremely broad discretionary powers available to the minister", the explanatory materials for the bill had "given limited justification for the expansion of these powers",
• The Bill in fact erodes objective standards (eg being charged with an offence) and seeks to introduce arbitrary and unreasonably low thresholds for failing the character test,
• The definition in the Bill of a designated offence includes offences against a law in force in a foreign country (Foreign Convictions). The inclusion of Foreign Convictions as a ground to refuse or cancel a visa raises serious concerns,
• Retrospective application: the new requirements of the character test are intended to apply to visa applications submitted prior to the commencement of the Bill and to offences committed before that date,
• The Bill increases the risk that people who are owed refugee or complementary protection may be returned to their country of origin in breach of international law or remain in indefinite detention in Australia without legal recourse,
• The Bill is estimated to potentially result in a four-fold increase in the number of visa cancellations and therefore the number of people in immigration detention,
• This Bill will very negatively impact on an already gridlocked legal system. Both the AAT and the Courts already have massive backlogs. People must wait in immigration detention for their case to be dealt with.
Please send letters to your state senators by 1 November 2020.
All Senators' contact details.
Return to the top of the page.
• • • • • • • • • • • • • • • • • • • • 
Christmas Island transfer plan
September 2020
There is real concern that the federal government is planning to transfer detainees to Christmas Island and possibly transfer people held in the eastern states to Yongah Hill in Western Australia.
The @HomeSafeWithUs initiative proposes placement in the community as an alternative, and we are keen to promote this widely in the community as a viable and reasonable possibility.
What you can do

Read the joint media releases by ARAN and the Refugee Advocacy Network:
Across Australia, home hosts say "beds are ready" for refugees (24 August 2020)
Release refugeesto stay @homesafelywithus (9 August 2020)
These call on the government to take the common sense option to release refugees and asylum seekers held in detention to the support of their families and friends in the community.
The @HomeSafeWithUs initiative is offered as a response to overcrowding and the risk of Covid-19 cluster outbreaks in immigration detention facilities and Alternative Places of Detention (APODs).
Please note: at this stage this is a proposal which would provide an alternative to detention, if the federal government decided to do the sensible and humane thing and release refugees from detention.
How you can get involved
• We invite your group to support this initiative by joining the @HomeSafeWithUs coalition. Confirm this by email; send it to austrefugeenetwork@gmail.com
• We know that a lot of people are willing to provide a room to support a refugee released from detention. Please email us at austrefugeenetwork@gmail.com for more information if you can assist with providing accommodation.
The @HomeSafeWithUs Coalition
Australian Refugee Action Network
Brigidine Asylum Seeker Project
DASSAN
Grandmothers for Refugees
Hunter Asylum Seeker Advocacy
RAC Canberra
RAC Qld
RAC Sydney
RAC Vic
RAR Bendigo
Refugee Action Coalition Sydney
Refugee Advocacy Network
Rural Australians for Refugees
Stop The Shame
Tasmanian Asylum Seeker Support TASS
Tasmanian Refugee Rights Action Group
Tassie Nannas
(… as at 11 August 2020)
Return to the top of the page.
• • • • • • • • • • • • • • • • • • • • 
The cost of the Australian immigration
detention regime
Read these useful reports:
• COVID-19 and the relentless harms of Australia's punitive immigration detention regime. (Sage Journals: Anthea Vogl, Caroline Fleay, Claire Loughnan, Philomena Murray, Sara Dehm) 1 August 2020
• Nicholson B, New Zealand to take 150 asylum seekers from Australia
(The Australian – paywall 10 February 2013)
• Seven Years On: An Overview of Australia's Offshore Processing Policies
(Refugee Council of Australia) July 2020
• At-What-Cost-report 2019
(Asylum Seeker Resource Centre)
• Joint Select Committee on Australia's Immigration Detention Network
Final Report. March 2012. ISBN 978-1-74229-611-1, Chapter 7 Alternatives.
• Factsheet Cost of Australia's asylum and refugee policy
(Kaldor Centre for International Refugee Law) May 2020
Statistics
Immigration Detention and Commonwealth Statistics Summary
Australia Border Force 31 May 2020
Long Term detention
The average time spent in immigration in detention is around 500 days – in Canada it is only around 12 days. Some people spend years in detention.
#11YearsTooLong
Sr. Elizabeth explains the situation of a man who has spent 11 long years in Australian immigration detention, and there is still no plan for his release.
"I got to know A when I was working at Curtin Detention Centre in 2012.
Shockingly, he still remains in detention, although he has been approved as a refugee and has no upheld convictions. Now, after more than 11 years, he fears he will be sent back to the notorious Christmas Island Detention Centre, which has just been re-opened.
I have joined his friends and supporters, including his legal team, and Rural Australians for Refugees, to call for Mr Peter Dutton MP to release him and grant his SHEV visa immediately.
Please sign and share our petition which will mean so much for A. After so long, he is very much in need of our mercy. Thanks very much and Peace."
Sr. Elizabeth Young RSM.
Background
Australia's onshore immigration detention 'unlike any other liberal democracy': Edward Santow. Australian Human Rights Commission. June 18, 2019
The AHRC latest report examines risk management in detention
There have been multiple incidents, alleged acts of violence, and deaths inside the network of onshore detention centres. The report found Australia is also now holding people for longer – an average of around 500 days, which Santow said "should not be considered acceptable". Guardian Australia. 18 June 2019
photo: AHRC Report June 2019