Refugee Week Actions
Actions will be listed here. If you have an action you wish to list, please send us the details via the ARAN contact form
Canberra
Canberra Convergence Event – June 15 at 10:00 am – 11:30 am
More info on Time for a Home
Melbourne
was Sunday 20th June – postponed to Sunday 25 July
2pm at the State Library (328 Swanston St)
Rally for Refugee Rights – Permanent Visas Not Discrimination
More info on Facebook
GLBTQI + Refugee Crisis in Kenya and elsewhere (Online Event)
Sunday 20 June at 5pm
Many Coloured Sky program works in partnership with the Refugee Coalition of East Africa to support LGBTQI refugees in Kenya. Many Coloured Sky also supports LGBTQI+ refugees and people seeking asylum in Victoria, Australia, and supports LGBTQI+ organisations and communities in Uganda, Indonesia, the Philippines, PNG and Australia.
Info and registration on the Notion website.

NT
World Refugee Day Stall – 20/06
8.00am at Nightcliff Sunday Markets, Progress Drive, Nightcliff
RACS Online Event (Webinar)
June 21 at 1.00pm – 1.45pm
Refugee Week: Unity Moving Forward
Register via Zoom

QLD
Vigil for Biloela Family and Refugees – 22/06 
6.00pm at Corner of Cavil Avenue and Esplanade, Surfers Paradise
Sydney
Wednesday 23rd June
6.30pm – 8.30pm
Sydney Town Hall/Live Streaming event – Band Together
Book tix here for access to the online event ($15- $30)
Tickets at Humanitix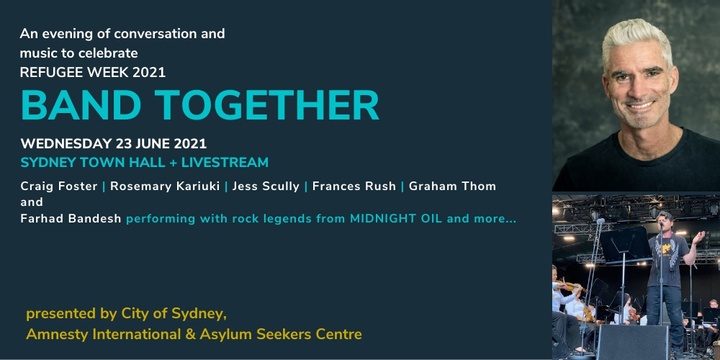 Warrnambool (VIC)
Wednesday 23rd June
6.00pm – 8.30pm
St Joseph's Catholic Church Hall.
Starting with live music from local band Aniar, soup & bread, then stream the Amnesty online event BAND TOGETHER from Sydney Town Hall. Entry by donation. All funds raised will go to Friends of Refugees in Dandenong.
More details about this event in the pdf
Amnesty International Online Event
Friday 25 June at 7.00pm
Making Australia Home: A Conversation with Refugees about Community and Change
Register for this free online event on Eventbrite

Meet people who survive despite a system designed to keep them out. Can their stories inspire unity in our community? Refugees have been stuck offshore. Stuck in a hotel room. Stuck on temporary protection. Separated from family. Having endured Australia's harsh asylum policies, what have they learned about themselves, about Australians, about what we can do better as a community?
Grace Edward and performance artist
Manal Younus will lead a conversation with other refugees about the experience of settling into the Australian community.
Hani Abdile: A spoken-word poet, writer and University of Technology Sydney journalism student living on temporary protection.
Mostafa Azimitabar: a Kurdish refugee who fled Iran and was held on Christmas Island, Manus Island, Port Moresby and two inner city Melbourne hotels for 2737 days for no crime before being recently released into the community.
Zaki Haidari: a 2020 Australian Human Rights Commission Human Rights Hero and an Ambassador for the Refugee Advice and Casework Service (RAC)


Melbourne Solidarity Vigil
was Saturday June 26 – now postponed – date TBA
6pm at the Park Hotel
Organised by Amnesty Refugee Network and local refugee advocacy groups
More info on Facebook
Bendigo (VIC)
18 – 26 June
More details about events in the pdf
NSW
Refugee Week at Five Lands Walk – 26/06
4.00pm at Avoca Beach, Avoca
Refugee Week Vigil – 26/06
7.00pm at Cook Street Plaza, Cook St, Lithgow
Refugee Week Vigil "Game Over" – 26/06
4.00pm at Sydney Town Hall, 483 George St, Sydney
Unite with Welcome Merchant – A Night of World Music and Food – 26/06
6.00pm at Erskineville Town Hall, 104 Erskineville Road
QLD
Refugee Week Vigil "Game Over" – 26/06
7.00pm at 299 Adelaide Street, Brisbane
SA
Book Stall at Fullarton Markets – 26/06
9.00am at Cr Fullarton Rd and Fisher Sts Highgate

WA
Refugee Week Vigil "Game Over" – 26/06
7.00pm at Scots Presbyterian Church, 90 South Terrace, Fremantle
Amnesty Refugee Week Events
Sydney & Livestreaming event – Band Together – 6.30pm, Wed, 23 June
An evening of conversation and music to celebrate Refugee Week 2021, presented by City of Sydney, the Asylum Seekers Centre and Amnesty International.
Tickets available to join the event at Sydney Town Hall or via the livestream.
Refugee Week Information Stall at the Eltham Library (VIC) 10am – 5pm, Sat 19th June
More info on Amnesty
An Evening with Mark Isaacs – 6.30pm, Thurs 24 June at the Welcoming Centre (SA)
More info on Amnesty
National Amnesty Refugee Network and the Kaldor Centre present "Temporary"(online event) – 7pm, Friday, 25 June
More info on Eventbrite
Sat, 26 June – "Day of Action" – All across the country, Amnesty and other partnering organisations will hostvigils:
All across the country, Amnesty and other partnering organisations will host vigils. To show solidarity with refugees and people seeking asylum still affected by Australia's inhumane refugee policy. These will be popping up all across the country. Amnesty groups will be leading in person vigils in Melbourne, Sydney and Perth, but all across the country you can join us either by hosting your own vigil (use Amnesty's toolkit) or by joining the livestream.
Film Screenings – Journey Beyond Fear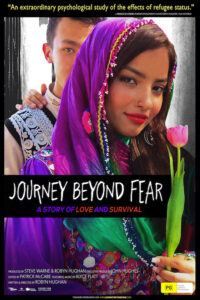 Date and Time: Sunday June 20th at 2.00pm
Venue: Peninsula Cinemas, Rosebud (VIC)
Book at Peninsula Cinemas
Date and Time: Thursday June 24th at 7.00pm
Venue: Deckchair Cinema, Darwin (NT)
Book at Deckchair Cinema
Date and Time: Thursday June 24th at 6.00pm
Venue: Gala Cinema, Wollongong (NSW)
Book at SouthCoast Tickets or book via Facebook
Date and Time: Friday June 25th at 6.30pm
Venue: Griffith Regional Theatre, Griffith (NSW)
Book at Griffith Regional Theatre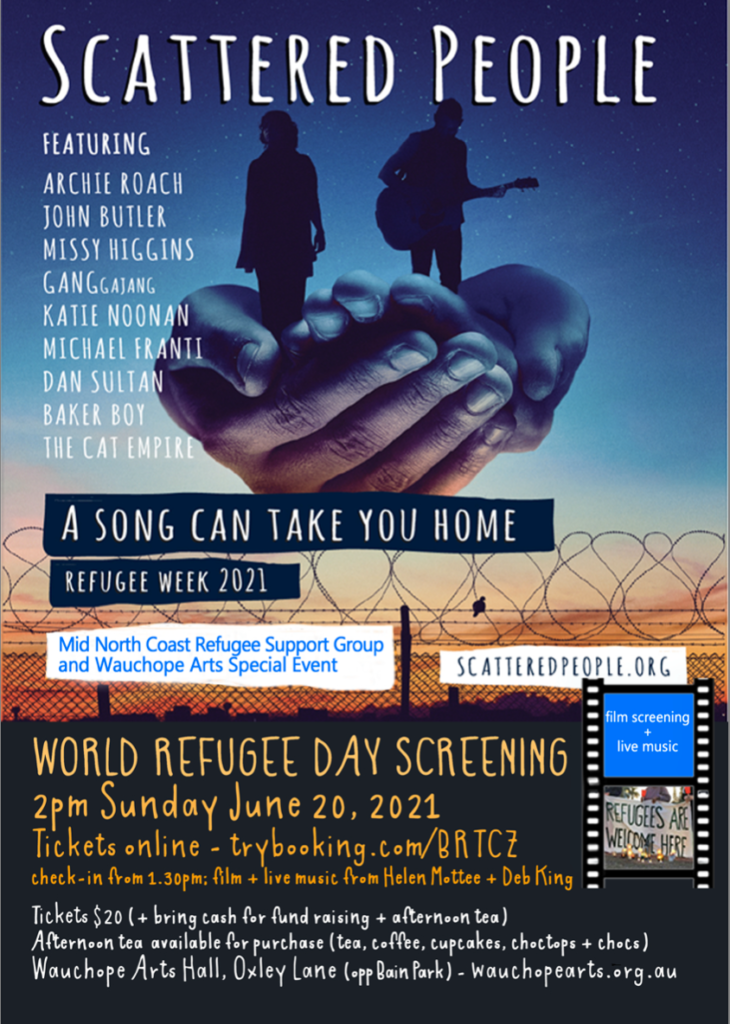 Film Screening – Scattered People
Date and Time: Sunday June 20th at 2.00pm
Venue: Wauchope Arts Hall (NSW)
Book at Try Booking
Resources
RCOA's Resource Kit is available for use
Vigils to support the Biloela family:
Saturday 19th June
Join a family-friendly event in your city this Saturday 19th June below (links are Facebook events)
Brisbane
Sydney
Canberra
Melbourne
Hobart
Adelaide
Darwin
Perth
Other Vigils:
Perth Children's Hospital, 6-7pm, Wed 9 June
More info on Facebook
Sydney, Thursday, Hyde Park North, 5pm, Thurs 10 June
More info on Facebook
Canberra, Friday in Garema Place, 5.30pm, Fri 11 June
More info on Facebook
Brisbane, King George Square, 5.30pm, Fri 11 June
More info on Facebook
Hobart, Elizabeth Street Mall, Hobart. 11am, Fri, 11 June.
More on Facebook
Melbourne, State Library, 2pm, Sat, 12 June
More info on Facebook
Buderim (QLD), St Mark's Church, 2.30pm, Wed, 16 June
More info on Facebook
Bendigo (VIC), Rosalind Park. 5pm, Fri, 18 June
More info on Facebook