Online Actions on Palm Sunday April 5th

The COVID-19 crisis pushed the Palm Sunday actions online
However on the day, across Australia, numbers of groups called for online actions to win Justice for Refugees. The Speak Up for Justice campaign got over 50,000 reaches on social media with a virtual event, a call for selfies, online petitions, and online letter writing actions about the issues of income support for people seeking asylum and the release of people from detention.
              View images on the Walk for Justice for Refugees – 2020 @palmsundaywalk Facebook page
View all videos on the 2020 @palmsundaywalk Facebook page
#justice4refugees
Palm Sunday is a time to call for justice and peace.  This year Annual Rallies and Public Gatherings are cancelled due to COVID-19, but we must not forget that refugees and people seeking asylum in Australia, and those held offshore, are still struggling with injustices, insecurity and cruelty of the current polices. This is a time for us to speak up for justice, and for a safer future for all – especially those who are most vulnerable in our communities.
Hunter Asylum Seeker Advocacy
The group has held Palm Sunday rallies every year since 2013. Due to the physical distancing rules this year we held an online action. With the assistance of Newcastle Amnesty we were able to host a zoom meeting and live-stream it to Facebook. The zoom meeting included:
a) a local petition signing and letter-writing session
b) a public meeting with asylum seekers and refugees speaking from WA, Victoria and Queensland, as well as local activists.
It was so encouraging to hear from asylum seekers and refugees as it can be hard to maintain momentum at times. And when we hear from them it always reinforces our resolve to keep fighting with them for freedom.
Perth
40 organisations worked on the 'For a Just Future' campaign.
Sydney
The Refugee Action Coalition held a Palm Sunday online action.
Please participate in these online actions:
Make your own sign
Speak up for Justice for Refugees: #justice4refugees
Sign & share online petitions:
• Justice for Refugees petition
• Safer at Home Petition
Make signs to display in your window or street
View and Share the Virtual Event   from 11am on Palm Sunday.
Speakers include:
Moz from Manus (Mostafa Azimitabar) musician now detained in a Melbourne hotel, Shamindan Kanapathi, Sri Lankan Tamil refugee detained in PNG, Tom Ballard, comedian and advocate for refugees, Nazeem Hussain, comedian, TV personality, writer and activist, Faith leaders, and Lucy Honan, founder of Teachers for Refugees.
Add a Justice for Refugees FB frame to your profile – find options Here
Social media actions from 11am on Palm Sunday – make a post on Facebook, Instagram, or Twitter and use the  use hashtag  #justice4refugees to get this trending. Some suggestions for your post: (1) take a selfie holding a sign calling for justice for refugees, or (2) make a 1 minute video describing the changes you wish to see. Find a selfie sign template  here  – or make your own sign or placard!
Key themes: 
Give refugees Permanent Protection Visas –#Justice4Refugees
Medicare and Centrelink for All – #Justice4Refugees
End the detention of refugees – #Justice4Refugees
Refugees are Welcome –   #Justice4Refugees   #WelcomeRefugees
Not using social media ?  see how to get involved here.
Find out how your faith group can get involved .  You might consider using some of the video clips in your online services – see here for more info.
Go to Speak Up for Justice for Refugees for templates and ideas, and background information on the issues.
Builders Josh and Anthony took time out to call for #FreeTheRefugees
---
View and share these 2 video clips from Canberra Refugee Action Coalition
Access to income safety net for people seeking asylum:
https://www.facebook.com/CanberraRAC/videos/1353438184829164/
Covid-19 health risk – release people from detention.
https://www.facebook.com/CanberraRAC/videos/878306265948305/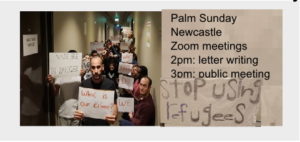 Palm Sunday in Newcastle
Newcastle Palm Sunday Online actions: Stop Using Refugees!
Two Palm Sunday Newcastle online Zoom meetings.
HASA will live stream to our FB group for people who can't get in or don't have zoom
https://www.facebook.com/groups/hunterasylumseekeradvocacy/
For local people in Newcastle to collaborate on letter writing
A public meeting format details tba.
2pm: collaborative letter writing
3pm: Public Meeting: Stop Using Refugees!

Palm Sunday – Mums for Refugees
Online actions
To mark this year's Palm Sunday, Mums4Refuges have built an online large-scale expression of solidarity for all refugees who continue to experience the brutal effects of indefinite, mandatory detention.
On Sunday, the 5th of April take the following steps:
Add our Facebook frame to your profile picture
Take a picture of yourself holding up a sign (can be as simple as an A4 piece of paper) with one of the following statements
Medical care not detention – not in hotels, not anywhere #FreeTheRefugees
Detention is an infection risk #FreeTheRefugees
Post to your Facebook, making sure to use the hashtags listed above.
Tell your friends and family to get involved, we want this to be BIG!
For further information: mums4refugees@gmail.com

Australian Medical Students' Association (AMSA), Crossing Borders: Virtual Palm Sunday Event
Post a photo of yourself holding a sign that says
Today at home I'm marching for refugees around the world
or 
Today at home I'm standing for refugees around the world
Send the photo to AMSA so we can post it for you.
Hashtag: #DetentionHarmsHealth
Australian Medical Students' Association (AMSA), is sponsoring (at $5 a photo)
the Asylum Seekers Centre in Newtown.
Facebook event here