Go along to one of these regular rallies or vigils to show your support for refugees
NT Darwin: The Darwin 15 9 continuing Vigil
Release the Darwin 9!
5.00pm – 6.00pm every day
Next to the Mercure Hotel Darwin Airport.
Find out more on the Darwin Asylum Seeker Support
and Advocacy Network DASSAN Facebook page.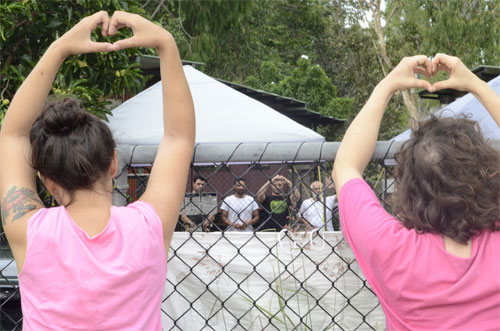 Brisbane RAC Qld
March 2021: RAC Qld is supporting an individual who is planning to be at the Kangaroo Point Central Hotel every evening and we are inviting people to joining him when able. Images from the rally on 5 March on Facebook.
Friday (1 May 2020) at 4.45pm (2020): we'll be exercising past the Kangaroo Point Central Hotel (now used as a detention centre for refugees) to show solidarity with the innocent people detained there in unsafe and unjust conditions.
(Allowed under Covid-19 exercise rules).
Amnesty Sunshine Coast Qld
Dine, Drink, Defend letter writing event – Digital Edition!
Hosted by Amnesty Sunshine Coast. First Thursday of the month:
7 May , 14 June, 2 July, 6.30pm AEST. Details on Facebook.
Nationwide phone marathon
Every Wednesday 9:00 am – 5:00 pm.
A nationwide phone marathon to tell politicians that Australians want a complete amnesty for all the asylum seekers on Manus Island and Nauru.Call or email your local MP and the Senators for your state.
Find your local mp and Senator on the Australian Parliamentary website .
#CantStandBy
First Saturday every month at 2.00 pm.
Choose from 147 pre-planned locations in five capital cities across the country.
More information on #CantStandBy