19 July 2019 Australia wide


6 years of suffering on Manus and Nauru
"Nearly all people detained offshore are recognised as refugees, and have waited in very difficult conditions for safe resettlement options. For many decent-minded Australians, it's obvious the current situation is untenable, that Australia can do better, and that policy-makers must work harder towards a humane solution that cuts through the falsehood that the only two choices are permanent imprisonment or deaths at sea."

BENJAMIN LAW,

FREELANCE WRITER
Statistics from Refugee Council – 2 July 2019
It is six years since Kevin Rudd announced the "PNG Solution"
indefinitely banishing refugees who arrived after 19 July 2013 to Manus Island and Nauru; six years of abandonment.
#SixYearsTooLong    #CloseManusAndNauru   #SafeResettlementNow
Unbranded Proforma MEDIA RELEASE
Regional & Capital City actions: #SixYearsTooLong
Please join us to call for #SafeResettlementNOW     

Thurs 18 July
Newcastle 5-6pm – King St, opp Town Hall
Newcastle Facebook event here
Sydney 6pm – 6 Years Too Long! Join Kerryn Phelps, who made huge change during her short time in Parliament ensuring all children and their families were evacuated off Nauru and lead the passage of the Medevac Law, and Sarah Dale RACS Principal Solicitor, and your ideas, thoughts and questions as we discuss how we can continue to fight for human rights in these challenging times. Tickets here
Friday 19 July
Albany 10am – readings, a march up the main street, a reading of the names of the men who have died in offshore detention and presentation of a document to our local member's office.
Ballina 7:00 – 8:00 pm St Mary's Anglican Church, 38-42 Norton St – Vigil
Bendigo 5pm – Rosalind Park (View St end), FB event here
Cairns 6pm – Esplanade opposite Aplin St. FB event here
Hamilton – 12 noon – in the forecourt of the Hamilton Performing Arts Centre
Hobart 12.30 pm – The famous Tassie Nannas plan to walk from Hobart's Elizabeth Street Mall (their regular knotting spot) with posters, banners and knitted chains to the office of Senator Jonathan Duniam, taking a letter to deliver to him. Other groups (eg Amnesty) are welcome to join us.
Hobart  4:30-6pm – on the corner of Murray and Macquarie St.
FB event here
Maleny  5.30pm Candlelight Vigil. Tesch Park, Maleny. BYO Candle
Mansfield 4.30pm Median Strip, wear black, bring messages. For further information, contact: mansfieldrar@gmail.com
Moss Vale 12noon – 1.30pm – Vigil in Leighton Gardens
For further information, contact: rarsouthernhighlands@gmail.com
Nowra  10-12pm – cnr Berry and Junction Streets.
Sunshine Coast – Candlelight Vigil for Refugees from 4.30pm, St Mark's Anglican Church, Main St, Buderim. Event here

Wangaratta

4:00 – 5:00 pm Outside the office of Dr Helen Haines MP at the roundabout – 17 Murphy St. Wangaratta
Warrnambool 12 Noon – outside Dan Tehan MP's Warrnambool Office in Kepler St Warrnambool
Saturday, 20 July 2019 
Adelaide 2pm – Parliament FB event here
Alice Springs 11 am till 1 pm at John Flynn Uniting Church Todd Mall
Armidale 10.30am – Dangar Street end of the Mall in Armidale FB event here
Brisbane 2pm – Queens Park FB event here
Canberra: 1pm – cnr Northbourne Ave & London Cct, Civic. Canberra FB event here
Darwin, 2pm – Parliament House (Facebook event coming)
Hawkesbury 11am – Richmond Park FB event here

Hobart

, 2pm – Parliament Lawns, Hobart.
Speakers: Anne Moon, Dr Bryan Walpole, and the Justice Society's Isobel Dunbabin and Brigid Thomson, with Tegan Saunders
Melbourne 2pm – State Library FB event here
Perth 11am – Forest Place FB event here
Sydney 2pm – Sydney Town Hall FB event here
Return to the top of the page.
Resources for #6YearsTooLong
Video clip of Success Stories of People who Came by Boat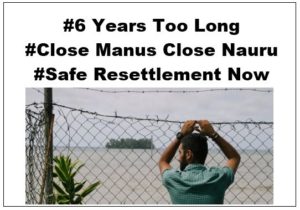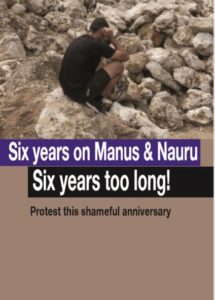 Capture public interest at your rally or vigil … … …
Messages in a Bottle
The idea is to have two large jars and collect 2 different types of messages

Post the Messages of Hope for people on Manus and Nauru to
Refugee Advocacy Network, PO Box 578 , CARLTON NORTH  3053 
by 30 July, and we will make sure they get to Manus Island and Nauru.
ARAN will arrange for the messages to be sent to the refugees and people seeking asylum on Manus Island and Nauru, so that they know that many people in Australia who are thinking of them, and working for their safe resettlement.
ALSO – Photograph the messages and send us the pictures (laid out in groups on a table) and email to austrefugeenetwork@gmail.com by 30 July.
Return to the top of the page.

Ask people to write a message to their local MPs.
Deliver postcards to your MP's office in the bottle or large jar
The ASRC is promoting a 'craft action' called 'Freedom Birds' for the Six Years Too Long campaign.  Fold an origami Freedom Bird small enough to be pinned to your local MPs lapel, take photo of the bird and post on social media with #FreedomBirds and #SixYearsTooLong – tag your local MP.  Deliver the origami bird to your MPs electorate office and ask them to wear it in Parliament on Thursday 25 July to show solidarity with people seeking asylum.
Message from Dulce Munoz, Convenor of Mums for Refugees
As mothers of young Australians,  we believe it is our responsibility to defend and stand in solidarity with People seeking protection in our country.
 We believe in a better Australia – one that treats all humans with dignity and compassion.
If this Government truly stands for the spirit of Australia, then it must bring all refugees and asylum seeker from off shore detention and close the camps
We call on the Australian community to join us on the 20th July 2019 and demand #kidsoutnow #closethecamps
Medevac Update – 4/07/19
(thanks to Rar for this imformaton)
The Migration Amendment (Repairing Medical Transfers) Bill 2019 – the legislation to repeal Medevac, has been referred to a Senate Inquiry by the Senate Legal and Constitutional Legislative Committee. The Committee is due to report on Friday 18 October, which means the Senate will not debate the Medevac repeal legislation until the November sitting period.
This decision ensures that Medevac can continue to operate for the next four months without threat of repeal by the Government.
We would encourage you all to make submissions to this Senate Inquiry  against the repeal of this important legislation. 
Migration-Amendment-Repairing-Medical-Transfers-Bill-2019.pdf
Migration-Amendment-Repairing-Medical-Transfers-Bill-2019-Explanatory-Memorandum.pdf
Medevac Legislation Update – 1/07/19
(thanks to GADRC for this information and suggestions)
The threatened repeal of the Medevac legislation is a top priority as the new Parliament convenes in the coming week.
Please focus on lobbying and letter writing to your local MP and others such as: Liberal MP's Russell Broadbent and Trent Zimmerman, the Indi independent Helen Haines and Greens MP Adam Bandt in the House and the Centre Alliance (formerly Xenophon Team) in the Senate, Stirling Griff and Rex Patrick, and Shadow on Home Affairs, Kristina Keneally and Opposition Leader, Anthony Albanese.
Background information to guide your letters, emails and social media content:
12 people died offshore in the 5 years before Medevac was passed earlier this year.
Numerous Australian doctors and whistle-blowers have gone public with their account of the bureaucracy overriding the opinion of doctors and consequent failures in treatment for people who were critically ill or needing transfer for medical care.
The medevac law addresses this issue by allowing two Australian doctors to provide a medical opinion about whether a sick person needs transfer for the purpose of treatment.
The Minister can dispute a medical finding.
The law also institutes an expert panel of Australian doctors, including government appointed doctors, who can review cases if the Minister disputes a finding.
The recent court ruling allowed that a doctor did not need to have 'personal engagement' with a patient for the Medevac provision to be activated. The court ruling has been described by medical professionals as bringing the process in line with standard practice and is particularly important in the case of Nauru where govt has forbidden entry to medical professionals. See the detailed media report here.

The Government's claims about floodgates have proven false. Since the Medevac law passed only 43 applications for transfer have happened. In 41 cases, the Minister accepted that they should be transferred.